Jurassic World: Dominion Dominates Fandom Wikis - The Loop
Play Sound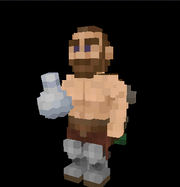 Description: "A talented alchemist who is also comfortable with relationships and bar-room brawls that a good brew will bring."
Gear: Excellent Iron Axe, Worn Iron Boots, Serviceable Backpack, Excellent Alembic, 3 Serviceable Empty Bottles, 2 Potions of Acid, 2 Bottles of Booze, 2 Bottles of Fruit Juice, 2 Potions of Blindness, Potion of Speed, Potion of Polymorph, Torn Copy of "Bottle Book", Slightly Aged Bread.
Difficulty: Normal.
Role: Alchemist, Scout with leadership and magic potential.
Gear
[
]
| Image | Name | Condition |
| --- | --- | --- |
| | Iron Axe | Excellent |
| | Iron Boots | Worn |
| | Backpack | Serviceable |
| | Alembic | Excellent |
| | Empty Bottle | Serviceable, x3 |
| | Potion of Acid | Plain, x2 |
| | Potion of Blindness | Plain, x2 |
| | Bottle of Booze | Plain, x2 |
| | Bottle of Fruit Juice | Plain, x2 |
| | Potion of Polymorph | Plain |
| | Potion of Speed | Plain |
| | Bread | Slightly Aged |
| | "Bottle Book" | Torn |
Starting Stats
[
]
| Stat | Male | Female | Growth |
| --- | --- | --- | --- |
| Strength | -1 | -2 | 4 |
| Dexterity | 1 | 2 | 4 |
| Constitution | -2 | -2 | 3 |
| Intelligence | -2 | -2 | 5 |
| Perception | 1 | 1 | 3 |
| Charisma | 1 | 1 | 5 |
Starting Skills
[
]
| Skill | Level | Number |
| --- | --- | --- |
| Tinkering | None | 0 |
| Stealth | None | 0 |
| Trading | Novice | 10 |
| Appraise | Novice | 10 |
| Swimming | None | 0 |
| Leader | Basic | 25 |
| Casting | None | 0 |
| Magic | None | 0 |
| Skill | Level | Number |
| --- | --- | --- |
| Ranged | None | 0 |
| Sword | None | 0 |
| Mace | None | 0 |
| Axe | Novice | 10 |
| Polearm | None | 0 |
| Shield | None | 0 |
| Unarmed | Basic | 25 |
| Alchemy | Skilled | 50 |