The Magic Bow, other wise known as "Khryselakatos" is a rare weapon in the game. The bow can be found on the second floor of the Underworld, but only from the hidden entrance portal on floor 5 (the break room between the Mines & the Swamps) Accessing the underworld via the ruins, you will not encounter Khryselkatos.
Sharur
hints that the bow is hidden somewhere in the Underworld.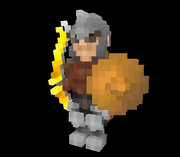 Attack: +17
Bonus: poisonous arrows
Weight: 30
Gold:
Sharur hints that the bow is hidden within the underworld.
Skeletons in the underworld often carry bows/crossbows, which is another clue to its location.